A Delegation Led by President of Chiang Mai University, Thailand, Visits SCU
Date:2019-05-28
On April 15th, Niwes Nantachit, President of Chiang Mai University, Thailand, led a delegation to visit Sichuan University. SCU President Li Yanrong met with the visiting guests. The Consul General of the Royal Thai Consulate-General in Chengdu, Vithit Powattanasuk, the Vice President of Chiang Mai University, Rome Chiranukrom, and the Vice President of SCU, Yan Shijing, as well as relevant personnel of the two universities, attended the meeting.
President Li Yanrong welcomed the delegation of Chiang Mai University. He pointed out that in active response to the Belt and Road Initiative, SCU has continuously deepened exchanges and cooperation with universities along the "Belt and Road" in recent years, especially with a few well-known universities in Thailand. He expressed his hope to establish a good relationship with Chiang Mai University, and carry out pragmatic cooperation on students exchange, scientific research and humanities exchange in order to boost mutual development.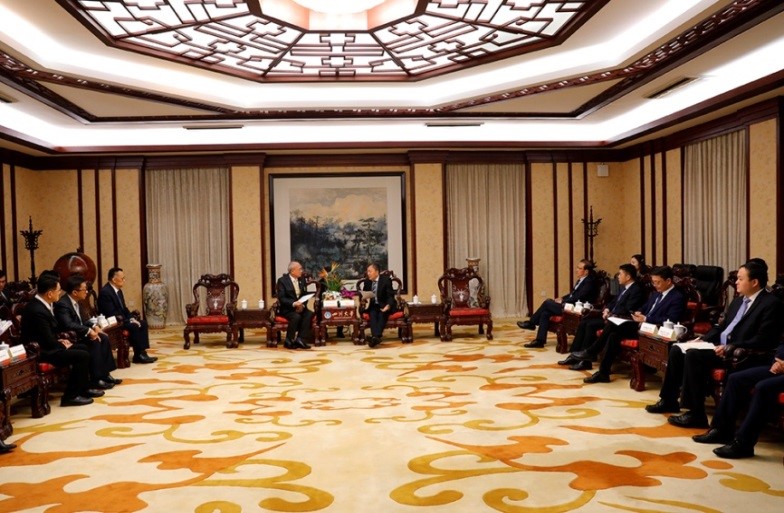 NiwesNantachit introduced Chiang Mai University. As one of the oldest Thai universities, Chiang Mai University is famous for its medicine and engineering, and has rich teaching resources and facilities, he noted. He hoped that this visit would turn a new chapter for establishing friendly and substantive cooperation between the two universities in scientific research, staff/students exchanges, especially in the development of medical disciplines.
The delegation also visited West China Hospital.