Prof. Wang Kunjie from Department of Urology WCH Appointed as Editorial Board Member of Journal of Endourology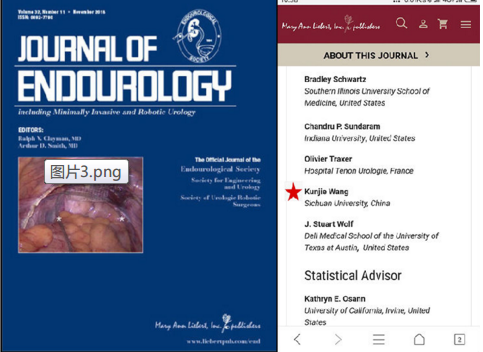 Recently, Prof. Wang Kunjie from our Department of Urology was officially appointed as one of two editorial board members of the Journal of Endourology following Academician Sun Yinghao in mainland China. This was an important signal that Prof. Wang has been further recognized by international scholars after he became a member of the Endourological Society.
As one of the core members of the urinary calculus minimally invasive diagnosis and treatment team of the Department of Urology, Prof. Wang has been dedicated to the research and practice of the chirurgery technology of urology, and the promotion and popularization of minimally invasive therapy for urinary calculus. With the concerted efforts by a number of predecessors and Prof. Wang, the Department of Urology has become the continuing education base of the Urology Sub-association of the Chinese Medical Association and the international training center for certification of the International Society of Urology; it is also the Southwest Prevention and Treatment Center of Urinary Calculi of the Chinese Medical Association and the support unit for the Southwest Training Center of Minimally Invasive Urinary. Thanks to its top platform, strong technical pool, excellent training environment and hardware facilities, this department has become the first partner of the Endourological Society in the Greater China area.
As a journal with outstanding influence and a leading position worldwide in the sphere of endourology, Journal of Endourology has been dedicated to the international peer review on the minimally invasive technology of urinary diseases since its establishment in 1987 by the Endourological Society. The appointment has recognized the excellent academic morality, pragmatic attitude, and persistent scientific spirit of Professor Wang, and also confirmed the Department of Urology of the WCH as an international academic platform.