A Pathogenic Microorganism Research Team Led by Prof. Zong Zhiyong Releases Article on Clinical Microbiology Reviews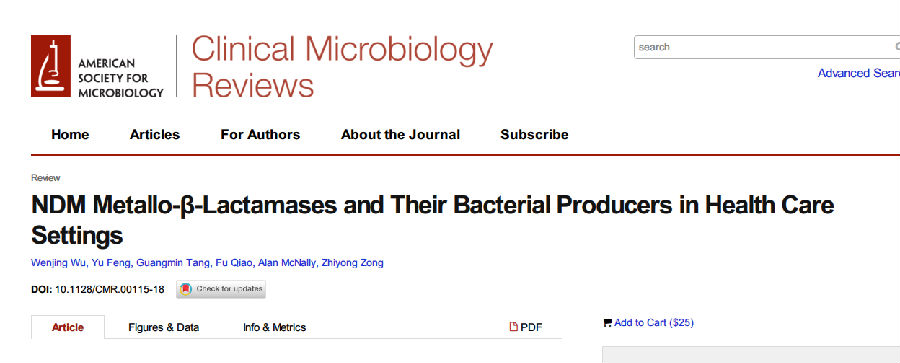 Recently, a pathogenic microorganism research team led by Prof. Zong Zhiyong released online a review article about NDM (New Delhi metallo-beta-lactamase) carbapenemases on Clinical Microbiology Reviews (impact factor of 20.642), the top academic journal in the field of microorganism and infection. Prof. Zong works in the Infectious Diseases Center, the Infection Management Department and the Pathogenic Microorganism Research Center of West China Hospital.
The Clinical Microbiology Reviews is the leading academic publication of the American Society of Microbiology, which releases high-quality and influential reviews and summaries by experts in the field of microorganism and infection.
The carbapenem-resistant Enterobacteriaceae (a genus of bacteria including Escherichia coli, Klebsiella pneumonia and Enterobacter cloacae) poses major medical challenges in the prevention and control of healthcare-associated infection, while the production of NDM enzymes constitutes one of the main drug-resistant mechanisms inEnterobacteriaceae against carbapenems, the mainstream choice of antimicrobial agents to treat life-threatening infections.
Prof. Zong's team, composed of the members of a couple of departments of our hospital, has got strong support from the departments of Intensive Care, Medical Laboratory, Respiratory and Critical Diseases and Clinical Pharmacy, etc. This team is always devoted to the multi-dimensional research on the resistance mechanism and the transmission mechanism of antimicrobial resistance genes in Enterobacteriaceae and has achieved systematic research results. The team has published more than 110 articles in SCI-index journals, demonstrating the cooperative results of the departments of our hospital and their academic capability in this field.