How to Standardize the Further Training of International Students? Tips of West China Hospital's Neurosurgery Department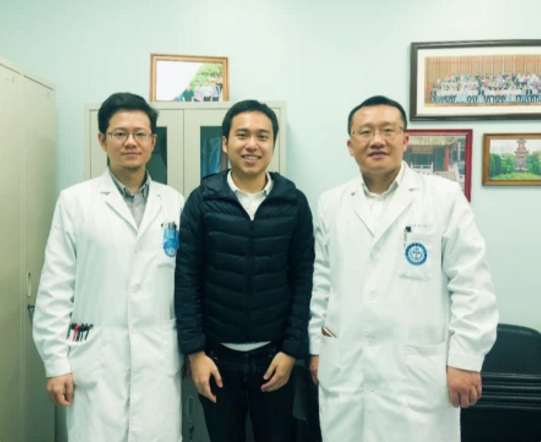 On the morning of December 18, 2018, neurosurgeon Festus Susilo from Indonesia hurried to the Office of Neurosurgery Department, West China Hospital. As an international CME trainee of the World Federation of Neurosurgical Societies (WFNS), he has successfully completed a 6-month advanced study and become the 10th international student graduated from our Neurosurgery Department since the WFNS's authorization 2.5 years ago. He is also a witness of the efforts made by our hospital in line with the "Belt and Road" initiative.
Immediately after his registration at the Neurosurgery Department in June 2018, Festus Susilo was taken care of by Dr. Zan Xin, a Teaching Secretary of the department, who was responsible for assisting him in everyday life and study. Our hospital also provided a single dorm to each international doctor under the further training, including Festus Susilo, plus a monthly living allowance of USD 600.
Guided by Prof. Xu Jianguo, the head of the department, and Prof. Liu Yanhui, the Teaching Director, the Department prepared a training plan for Festus Susilo, in view of his own desire, departmental arrangements, and the regulations of WFNS. Under the supervision of our senior surgeons, Festus participated in clinical practices (in both operating rooms and wards), neurosurgical conferences (undertaken by our hospital), as well as ward rounds and discussions. After six months of systematic training and study, he successfully obtained the completion certificate jointly issued by our hospital and the WFNS.
In January 2016, the Neurosurgery Department was accredited by the WFNS as a Post-Graduate Training Center (West China Hospital, Sichuan University, Post-Graduate Training Center). As a branch of the World Health Organization (WHO), the WFNS was founded in 1955 with its HQ in Geneva, Switzerland. It represents members from 115 countries and more than 30,000 neurosurgeons worldwide. The target of WFNS is to promote the technical exchange, progress and development of neurosurgery on a global scale. In China, it has accredited only three training centers in West China Hospital (Sichuan University), Xuanwu Hospital (Beijing) and Huashan Hospital (Shanghai) respectively. The Post-Graduate Training Center of our hospital is the second one of its kind in China, right after Xuanwu Hospital. This center is headed by Prof. You Chao, with Research Secretary Li Xi and Dr. Lan Zhigang as coordinators, as well as Associate Professor Ma Wei as the WFNS's executor in West China Hospital.
The Neurosurgery Department faced two questions on its early stage of training: First, how to develop a special training program suitable for international trainees? Second, how to establish an assessment system?
"Respect the individual's will, combine the actual situation of the department, and observe the WFNS regulations." - Following such a principle, the department has worked out an initial training plan. The international trainees will, in strict accordance with the requirements of the department, work in shift among corresponding medical teams, participate in ward round, patient treatment, surgery and medical paperwork under the supervision of attending surgeons; they will also take part in morning shift exchange (conducted in pure English) on a daily basis, weekly teaching ward round, small lecture, and seminars of intractable cases and death cases.
Hassan Abaza from Egypt was among the first batch of international students. When he just came to West China Hospital, he could hardly blend himself into the work and study, and gained poor results initially. Therefore, the department asked the doctors and senior graduates to help the international trainees like Hassan Abaza. They offered those students whole-process assistance covering daily issues from registration, to receiving living allowance, handling unexpected events, etc., so as to help them achieve the training objectives.
"The Neurosurgery Department has constituted a team of experts and professors to evaluate the international students' theoretical knowledge and clinical skills at regular intervals," said Prof. You Chao. That means the team will assess their knowledge and skills at the end of each short-term training phase and each month. The question database, including term explanations, Q & A, and case analysis, is prepared in line with the training goals and actual progress. Skill assessment is carried out ranging from the basic disinfection and draping, dressing change, lumbar puncture to craniotomy, post-craniotomy and other simple operations. Prof. You pointed out, "We hope that the international students can fully fit in the learning and living atmosphere of West China Hospital, participate in morning shift exchange, ward round, as well as discussion of intractable cases and death cases, and other activities. In this way, they can master the basic knowledge and clinical skills required for neurosurgery, complete the scheduled training program, and return home as a qualified neurosurgeon."
As of now, our Post-Graduate Training Center has trained 10 neurosurgeons from Indonesia, Ghana, Argentina, Uzbekistan, Palestine and some other countries, and has received over 10 applications from the United Kingdom, Iraq, the United States, India, Egypt, Greece, Zambia, and the Philippines.
In 2018, the fifth anniversary of the "Belt and Road" Strategy, our Neurosurgery Department actively responded to the country's call, put into practice the concept of "joint efforts, win-win cooperation, mutual exchanges and learning" in the medical field, strengthened internal construction, and attracted more international students of different levels to enhance its international influence.